Custom Websites
We provide our websites as templates and customised solutions. A customised website is tailored to your business and will create a unique online identity for the business. In addition to look and feel of the website, the transactions in customised websites are tailored to your business requirement and in most cases integrated with business applications.
Mobile App Design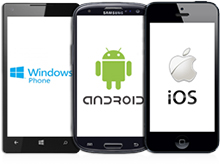 Mobile Apps increasingly form a large share of the online business. We design robust, easy to use, simple and lightweight apps for all platforms including IPhone, Android, Windows and Blackberry. Our apps are generally a part of an integrated solution and expand the reach of your business to cater for the needs of sharply increasing mobile internet users.
Website Templates
The biggest advantage of template websites are their low cost and immediate availability. Informist template websites in addition benefit from professional designs and full content management through online control panels. Our control panels are very easy to use and allow you to change the content and the look of the sites with a few simple clicks. We currently provide template websites for private hire companies including taxi and minicab websites. For more informatin please visit our dedicated website cabwebsite.com
Database Design
Informist has a deep and long experience in database applications and data integration projects. We work with our customers to ensure the database applications support optimised business processes and have the flexibility to expand and adopt to the changes in the business. We design our user interfaces to be intuitive and easy to use and move all complexity to the background. Data integrity, security and backup are of outmost importance in all our database development projects.